The Rosary Walk at the Shrine of Guadalupe, La Crosse, WI

"Finding Tile Artisans was nothing less than providential. They have not only done justice to my work but have brought my studio into another dimension for both interior and exterior murals. Both the quality of their work as well as working with their staff has been a professional delight."
— Anthony Visco, Artist | Atelier for the Sacred Arts | www.anthonyvisco.org
Floor tile mural installed at: The Central Reform Congregation, St. Louis, MO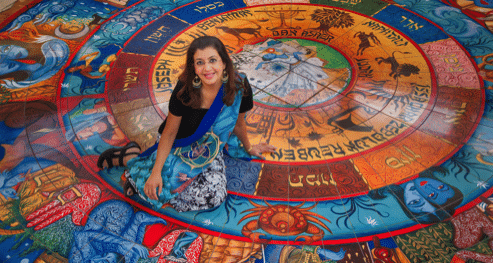 "Tile Artisans was able to satisfy our color reproduction requirements with spectacular results"
— Siona Benjamin, Artist | www.artsiona.com
Murals at the US Census Bureau, Suitland, MD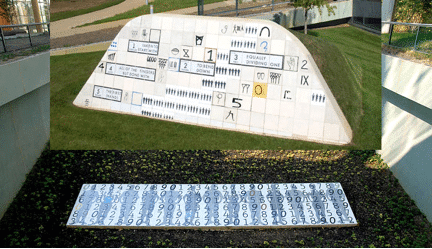 "I am pleased to recommend Tile Artisans I worked with them to produce the tiles for my Census permanent public art installation for the USA Art in Architecture program at the Federal Census Bureau in Suitland, MD. Not only were the tiles realized as I had envisioned, but their service was great. They were helpful, courteous and, delivered a product exactly as I had specified".
— Anita Glesta, Artist | www.anitaglesta.com
Outdoor mural installed at Rawls Golf and Team Facility, Lubbock, TX

"We are a collaborative team specializing in photo-based public art projects and had the opportunity to create a custom tile mural for Texas Tech University at Rawls Golf and Team Facility in Lubbock, TX. We chose Tile Artisans to fabricate the tiles and couldn't be happier with our decision. Not only did we find Tile Artisans to be prompt, professional, and accommodating to our specialized needs, but also, importantly, the imaged transfer and quality of the tiles (color, clarity, and surface consistency) surpassed any tile we had seen before. This was a superb experience with a friendly and responsive company and we highly recommend their custom tiles to anyone who wants to translate their digital imagery into a long term, durable tile product."
— Peter Tonningsen | Counterpoint Studio, LLC | www.counterpointphoto.com
---
"I was extremely pleased both working with Dave and the resulting large multi-tile mural Tile Artisans fabricated using their 3D printing process for multicolored, beautiful ceramic glazes. Dave was extremely helpful from the beginning of the project to its final fabrication. I hope to be able to use Tile Artisans services again for future projects."
— Melissa Meyer, Artist | www.melissameyerstudio.com
---
"Tile Artisans Digital Imaging did an excellent job on making 500 beautiful tiles commemorative of Seminole patchwork designs for the base of my bronze sculpture 'Florida' A Seminole Girl celebrating the anniversary of the 500 years of our state having been named Florida. The monument honors the enduring presence of the Seminole People of Florida. 
Tile Artisans was very organized giving us assistance many times as needed in order to complete this project in a timely manner. Their knowledge of technology and materials made for a colorful base with the tiles depicting the symbols that the Seminoles have on their unique native traditional clothing and names of 500 people making Florida known in the world." 
— Nilda Comas, International Sculptor | Legacy Art Studio | www.nildacomas.com